Eset NOD32 Smart/Internet Security 2023 Antivirus | 1 | 2 Years & 1 | 2 PCs
Eset NOD32 Smart Security 2023 Antivirus
Protect Your Devices with ESET NOD32 Antivirus - The Smart Choice for Online Security
In today's connected world, cybersecurity is more important than ever. ESET NOD32 Antivirus provides multi-layered protection optimized for your Windows, Mac, Android, and Linux devices. Keep your information safe and secure with one of the most trusted names in cybersecurity.
ESET NOD32 Antivirus Features:
Real-Time Malware Protection - Uses proactive technology to block viruses, ransomware, spyware, phishing scams and other threats before they can infect your device. Stops malware in real-time with minimal system impact.
Advanced Cloud-Powered Scanning - Leverages ESET's cloud malware database to strengthen detection and block emerging threats. New threat data is processed and delivered to your device for constant protection.
Ransomware Shield - Provides an extra layer of protection against ransomware infection. Monitors and evaluates all applications for suspicious behavior to stop ransomware attempts cold.
Exploit Blocker - Strengthens security by monitoring commonly exploited software and blocks attack techniques used to spread malware. Prevents malware from taking advantage of vulnerabilities.
Advanced Memory Scanner - Enables improved detection of persistent malware that employs multiple layers of encryption. Scans for threats at a low level before they can begin malicious activities.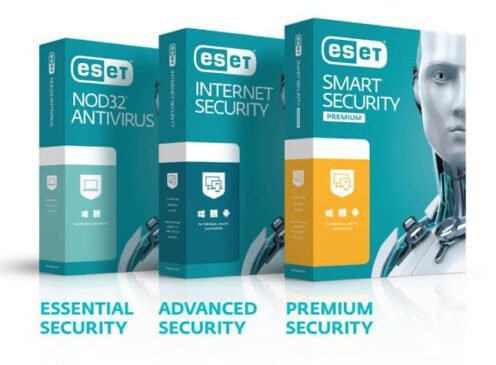 Botnet Protection - Blocks communication between your device and known botnet command and control servers. Stops your device from being used to spread spam or launch attacks.
Network Attack Protection - Automatically protects your device from malicious traffic and stops hacker exploits and information stealing. Prevents your device from spreading malicious traffic on your network.
UEFI Scanner - Protects from threats that attack your device below the operating system level, even before the start-up process begins. Helps guard against persistent infections.
Cross-Platform Protection - Allows you to customize protection across all your Windows, Mac, Android, and Linux devices from one simple dashboard. Connect up to 10 devices.
Privacy Tools - Helps prevent your private data from getting into the wrong hands. Encrypt your connected drives, permanently shred files, stop web trackers and block webcam access.
Gamer Mode - Automatically switches to silent mode when any program enters full screen. Pauses notifications and stops any activity that affects performance to avoid disturbances or lags while gaming.
Tune-Up Tools - Cleans junk files, locates performance bottlenecks, identifies old and vulnerable software on your system, and provides recommendations to optimize and boost speed.
Password Manager - Secures passwords, credit cards, contacts and other private data in an encrypted vault. Automatically enters passwords for you across devices.
Anti-Phishing - Detects malicious websites impersonating legitimate ones to steal personal data. Blocks phishing attempts from email clients and web browsers.
Secure Browser - Adds an extra layer of security to your online payments and banking.
Encrypts communications between keyboard and internet banking site to protect sensitive info.
ESET NOD32 Delivers Multi-Layered, Proactive Protection
ESET NOD32 uses advanced heuristics and machine learning to detect never-before-seen threats. Multiple scanning layers analyze suspicious code and behavior, cross-referencing it against ESET's cloud-based reputation database updated in real-time.
The extremely low system demands and passive scanning keep your devices running smoothly while staying protected. Small, frequent updates ensure your system is always up-to-date against the latest malware.
Trusted by over 110 million users worldwide, ESET NOD32 is recognized by top review sites like AV-Test and AV-Comparatives as a top performer in real-world detection and protection.
One License Covers All Your Devices
Stop paying for antivirus on every device and manage it all from one license. Connect Windows, Mac, Android smartphones and tablets, and Linux devices to ESET NOD32 and customize security for every one based on their own specific needs and risks - all from a unified dashboard.
Whether its your family's sensitive information, home network, or business data, ESET NOD32 applies intelligent layers of protection and lets you control the security of all your systems in one place.
Protect Your Online Experience with ESET Internet Security
ESET Internet Security takes your protection to the next level by adding advanced firewall, botnet protection, anti-spam filter, web control tools, webcam protection, password manager and more.
Additional Internet Security Features:
Two-Way Firewall - Prevents unauthorized access to your computer and stops malware from spreading to other devices on your network. Customizable rules let you control network traffic.
Botnet Protection - Blocks bots from sending spam, stealing data, or launching denial of service attacks from your device. Protects against botnet infiltration.
Anti-Spam - Keeps unwanted junk and phishing emails from reaching your inbox. Customizable rules let you fine tune what's detected as spam.
Web Control - Blocks website categories like gambling, shopping, social media, or adult content. Allows you to set time limits on sites and prevent accessing pages with inappropriate content.
Webcam Protection - Automatically blocks unauthorized access to your computer's camera. Prevents peeping toms and cyber criminals from watching through your webcam.
HIPS Intrusion Prevention - Uses advanced behavioral analysis to monitor active processes, files and registry keys for suspicious activity. Provides granular control over what apps can access critical system areas.
Network Inspector - Provides an interactive visualization of your network, highlighting vulnerable devices or poorly protected IoT products. Allows you to identify weak points in your network security.
Password Manager - Securely stores passwords, credit cards, contacts and private notes in an encrypted vault locked with one master password. Automatically syncs between devices.
Parental Controls - Lets parents limit the web content, applications and screen time accessible on childrens' devices. Provides usage reports and sets educational goals.
Multi-Device Security - Connect and manage up to 10 Windows, Mac, Android and Linux devices using a single license. Customize protection based on specific device needs.
The Next Evolution of ESET's Legendary NOD32 Antivirus
ESET has been developing industry-leading security software for over 30 years. ESET NOD32 Antivirus has consistently earned top reviews from independent labs and remains highly rated among consumers.
This latest version represents the next evolution in malware detection with advanced heuristics, machine learning, DNA detections, cloud-based lookups, TPM support and multi-layered scanning. It stays lighter and faster than ever while providing comprehensive protection.
Backed by ESET's legendary commitment to research and development, NOD32 Antivirus leverages decades of experience creating award-winning cybersecurity software for homes and businesses.
Get ESET NOD32 Today for Complete Peace of Mind
In today's always-connected world, threats lurk around every corner. Hackers, scammers and cyber criminals are working overtime to infiltrate systems and steal private information. Don't leave your devices and family data unprotected - get ESET NOD32 today!
www.SpotKeys.com is offering huge discounts on 1 and 2 year licenses covering 1 or 2 PCs. Buy from a trusted source with money-back guarantee, lifetime license validity, fast email delivery and 24/7 customer support. Get multi-layered next-gen antivirus protection for all your devices at an incredible value!